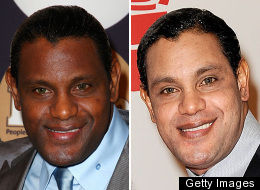 Pic from the Huffington Post.
This is Sammy Sosa. He was most famous for trying to break the MLB home run record that stood for 37 years while under the help of something that rhymes with android.
The photo on the left was taken earlier in 2009, and the one on the right was taken in November 2009. Does he remind you a little bit of Michael Jackson? He claimed that he was using a lotion in conjunction with cosmetic skin peel to rejuvenate his skin, but to the mass public, it whitens it more than it rejuvenates.
Whatever it is, Asian ladies and those who want to achieve that Twilight pale look should start booking with Sammy's spa and dermatologist. IT REALLY WORKS. JUST LOOK AT GOOD OL' SAMMY!